Find Your Own Niche & Be Part of the "Entrepreneur Revolution".
see this on video: entrepreneur revolution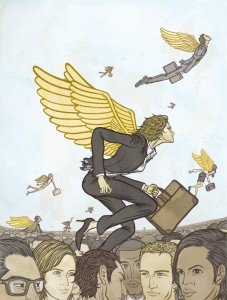 "You already have the talents and the skills - there is stuff that you've been doing over the last six or seven years that is already interesting enough to enough people worldwide. You don't need to fit in you don't have to force yourself into a square hole if you are a round peg any more. Whatever you've been doing; think about what you love doing over the last six or seven years. Over the last six or seven years there are things that you've loved showing up for – you are already doing it somewhere in your life. It's the things that you love showing up for that make you influential.
You have arrived at this time in history
Can you imagine how your grandkids will look at you if you waste this opportunity."
"I was there at the cusp between the industrial revolution where everyone was a wage slave, to the entrepreneur revolution when I could have done anything, and I wasted it."
words from Daniel Priestley Entrepreneur & Managing Director of Ecademy
_____________________________________________________
In 2010 I made a conscious choice to quit my job and become an entrepreneur.
Ask yourself this question! How can I take advantage of this unprecedented shift towards global entrepreneurism?
During these times of uncertainty and global financial insecurity, knowledge is becoming the new currency. The rules are changing. Our challenge is to learn how to survive in an ever-changing world.